Probability Lab
The Probability Lab
SM
(Patent Pending), which we introduced in TWS release 942, offers a practical way to think about options without the complicated mathematics, and is designed to optimize the analysis and management of option strategies. We recently added several key enhancements to the Probability Lab, including:
Support for advisor share allocations (also added to the Option Strategy Lab).
The ability to increase and decrease both the custom forward price and custom volatility using up/down arrows next to each price AND using a drag action (left/right and up/down) in the Probability Distribution chart itself.
The Strategy Performance Detail chart now clearly highlights in yellow the value of the curve that corresponds to the location of your mouse as you move along the x-axis. The movement of the mouse within the chart is also clearly visible; the cursor displays as a round dot running along the strategy curve.
The ability to save a probability chart and email a link to that chart. Click the email envelope icon along the top of the Probability Distribution graph.
The ability to have the system search for non Delta Neutral and single-leg option strategies. A new checkbox labeled "DeltaN" is displayed above the Build Strategies button. When left unchecked, you are able to designate the lowest number of legs as "1" (previously "2" was the lowest) and returned strategies may not be delta neutral. When checked, only delta neutral strategies are returned with a minimum of two legs.
The ability to require the underlying (stock or future leg depending on the contract) to be part of the trading strategy. To include the underlying contract in the strategy, check the Stock (or Futures) Leg checkbox in the Probability Distribution Builder panel.
Read more about the Probability Lab at
interactivebrokers.com/probabilities

.

IB FYIs
Our new IB FYIs provide you with timely alerts that can assist with your trading and investing. At launch we will provide the following alerts:
Borrow Availability - This is to address situations where short sale orders have been rejected due to insufficient locates. When this happens, the IB Securities Lending Desk is alerted and seeks to source new locates. When the Desk is able to source these locates, a bulletin will be sent to your trading account, alerting you that the short order rejection has been lifted.
US Options Expiration - Receive notification three days before your US options expire.
Takeovers - Receive notification when a company in which you hold positions is part of a merger or takeover.
Economic Event Order Suspension - The ability to pause your active orders during major economic events for 20 seconds before and 40 seconds following the event. Once you enable this automatic action, you will receive bulletins in your account which report the times and descriptions of the driving economic events.
Earnings - Notifies you of upcoming earnings announcements for any companies in which you currently hold a position.
Over time we hope to add many other types of alerts. Alerts will be broadcast to the TWS, WebTrader, and mobileTWS. For more details, see the
Users' Guide

topic.

IB Traders' Insight: Global Market Insights by Traders for Traders
In October we introduced the IB Traders' Insight, a key resource for market participants seeking timely commentary directly from industry professionals on the front lines of today's fast-moving markets.
We would like to invite our institutional clients to comment on the global markets through IB Traders' Insight. For more information about contributing, please email Caitlin Duffy, our Equity Options Analyst, at:
ibti@ibkr.com

.
We're pleased to announce several key updates to the IB Traders' Insight, including:
Mobile-ready display: You can view the IB Traders' Insight from any mobile device. Take a look now by clicking here . To view the IB Traders' Insight on your iPhone, download the native app to stay connected while you're on the go.
TWS Access: Traders' Insight is streamed live via the TWS news feeds.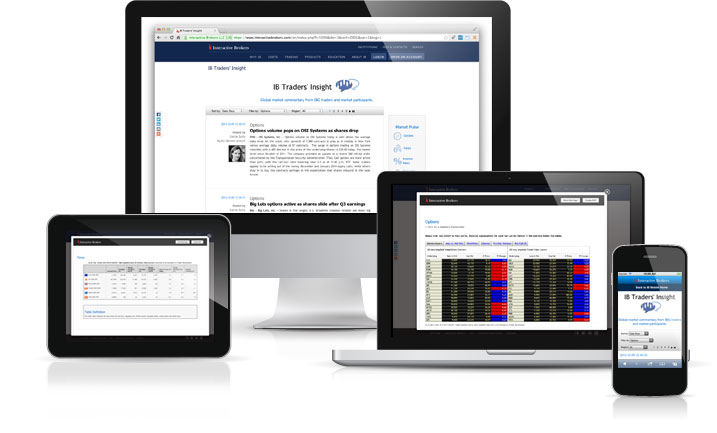 Visit the IB Traders' Insight by
clicking here

or navigate to it directly from the Education menu on our web site.

Create and Redeem ETFs

IBLLC cleared customers now have the ability to create and redeem ETFs through Interactive Brokers. Simply phone in your request and IB will facilitate the ETF creation/redemption process with ETF issuers. ETF creation and redemption offers large professional customers the following benefits:

Create ETFs that are hard to borrow and lend them out or cover your short positions.
Create ETFs containing 50,000 or 100,000 shares and make them available in smaller pieces to your clients who are looking to transact in ETFs of a smaller size.

For more information, see the Create and Redeem ETFs

highlight

page.

Money Manager Marketplace for Bond Traders
Last year we introduced the IB Money Manager Marketplace, the first electronic meeting place to bring together Advisor Wealth Managers and IB Money Managers. The marketplace lets Advisor Wealth Managers expand their trading expertise at no cost while continuing to focus on recruiting new advisor clients. IB Money Manager advisors can expand their client base at no cost while continuing to focus on the trading and investing of customer assets.
We encourage Advisor Wealth Managers who wish to expand their trading expertise to visit the marketplace to find money managers with expertise in bond trading, as well as other asset class trading.
Money Managers with bond trading expertise are encouraged to sign up to participate in the Money Manager Marketplace and advertise their services.
To find out more, we invite you to visit our Money Manager Marketplace Information page at
www.interactivebrokers.com/mmmarketplace


Technology Updates
The list below highlights some of our biggest changes over the past months. Please visit the Documentation section of IB's
Traders' University

for a comprehensive list of all technology release updates.
TWS
Time & Sales
You can now view volume/vwap split, and re-arrange columns.
IBIS News and Fundamentals Feeds
We recently added two new research subscription feeds to our IBIS offerings. Both new feeds include a free one-month trial and both can be accessed via the TWS API:

Benzinga Pro
Midnight Trader Live Briefs



We have made several of our existing feeds accessible via the API, including Theflyonthewall.com and Briefing Trader.

Along with the addition of the IB Traders' Insight to the preconfigured TWS news feeds, we have also added Social Sentiment by aheadsup.com (which also functions as a Market Signal).

Additionally, Waverly Advisors technical / quantitative research now includes two distinct reports for IB Subscribers. The Tactical Playbook provides actionable ideas for active traders on the daily/weekly timeframes (equities, futures and FX markets). The Tactical Portfolio Outlook is designed for the longer-term manager or investor, and focuses on Equities and an ETF universe. The subscription includes Waverly's Monday's comprehensive reports, daily updates and access to our weekly webinars.
Account Management
Multiple Hedge Funds Can Now Add SMAs
Investment Managers with Multiple Hedge Fund accounts can now add separately-managed accounts (SMAs).
Broker Client Fees Updated
Broker client fee and client invoicing configuration screens have been updated for improved ease of use. Additional updates include:

Brokers no longer set up and apply a global fee schedule. Instead, client fee schedules can now be entered and stored as templates.
Brokers can now view and sort all client accounts, and select one or more accounts easily on the Configure Fees page (Manage Clients > Fees), then configure fee schedules or apply a client fee template to those accounts.
The Manage Clients > Fees > Invoicing page has been updated to allow brokers to more easily view and sort all client accounts, then select one or more accounts and configure monthly or quarterly invoicing for those accounts.
For detailed instructions, see the
Account Management Users' Guide

Statements and Reports
New Look and Feel for Reports
Both the HTML and PDF report versions have a new look and feel, designed for easier readability.
Activity Flex Query Updates
A new section, Transaction Tax, has been added to the query, and several new fields have been added to the Account Information section.
Concatenated Early Morning Margin Report
Advisors and Brokers can now request concatenation (which joins multiple files together) in CSV-formatted early morning margin reports so that they receive a single file instead of one file for each client.

New Products
Since October we've added several new products including:
CFDs:
Futures

EUREX Butter index futures
SGX TSI Iron Ore futures
30-Year Deliverable Interest Rate Swap futures on ECBOT
To keep up-to-date on all of our recent product and exchange offerings, visit the
New Products

page on the IB web site.

New 2014 Traders' Calendar
The new IB 2014 International Trading & Expirations Calendar HTML App
is now available

for your mobile, tablet, desktop or laptop device. For your convenience we also offer the calendar in two PDF formats; large or wallet-sized. The calendar displays exchange holidays and contract expiration dates for the major exchanges and products around the world.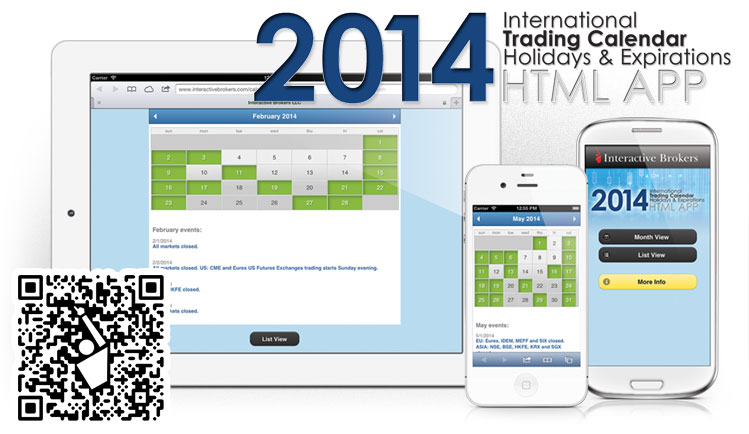 Probability LabSM (Patent Pending). Any trading symbols displayed are for illustrative purposes only and are not intended to portray recommendations. Supporting documentation for any claims and statistical information will be provided upon request. Options involve risk and are not suitable for all investors. For more information read the "Characteristics and Risks of Standardized Options". For a copy visit Interactivebrokers.com/disclosures or call 203-618-5800.
No offer or solicitation to buy or sell securities or investment products of any kind, and no recommendation or advice is made, given or in any manner endorsed by Interactive Brokers LLC ("Interactive Brokers") or any of its affiliates.