WebTrader
Simple but powerful web-based trading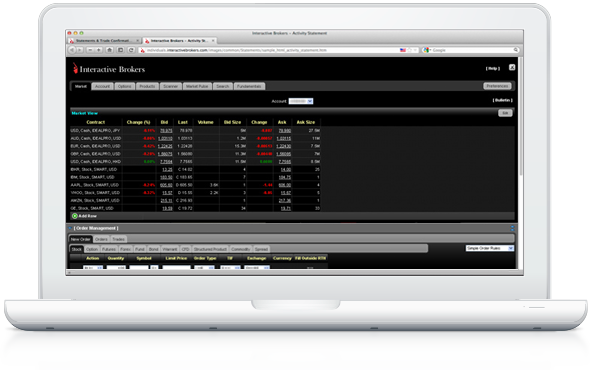 WebTrader
Looking for a simple but feature-rich trading environment? WebTrader, our HTML-based trading platform, is the perfect solution if you prefer an uncluttered, easy to learn trading interface but still want to use advanced trading features and tools.
Simplicity
Ideal for users who work behind a firewall, WebTrader runs through the Internet, so you can log in and trade from any Internet-ready PC with no downloads required.
The tabbed interface and modular design makes it easy to find the features you want to use. Tabs and panels are clearly labeled to break down trading tasks into simple actions.
Market Data and Charts
Add tickers to view streaming market data, and choose to receive delayed market data for contracts for which you do not currently hold market data subscriptions.
View option chains, and create a new tabbed page for each underlying.
Use Interactive Flash-based charts to view market value and volume for a single stock, future or index for one of seven time periods.
Check the Market Pulse to keep up with current market conditions around the world.
Orders and Executions
Trade stocks, options, futures, Forex, funds, bonds, warrants and more on over 100 markets worldwide, all from a single account.
Create orders with a single click on the Bid or Ask price, or create more advanced orders in the Order Management Panel.
View open orders and executions, and create new orders from open, executed and canceled trades.
Quickly create spread orders based on predefined strategies, or create your own custom strategies.
Account Monitoring
View a summary of your account status, margin requirements, equity, net liquidation and P&L, and your positions, all with a single click.
News and Fundamentals
View contract-specific fundamentals, including profile, news, charting, financials, insider trading info, analyst info and SEC filings for any company.
Keep up with the latest market news with news feeds from Reuters News.
Advanced Trading Tools
Enjoy the benefits of advanced trading tools without the complexity:
Market Depth displays the alternative bids and offers away from the inside quote to allow you to better gauge market liquidity.
BookTrader lets you view deep book data for a selected contract, and create and transmit orders.
Market Scanners provide a quick scan of relevant markets and return the top contracts based on instrument, parameter and other filtering criteria that you define.
Contract Search helps you easily find contract information and IDs.
Customization
Customize WebTrader to make the simple interface work the way you do:
Take advantage of WebTrader's completely modular design to add and remove trading functions and tools to fit your own trading style.
Create tabbed product pages that contain everything you need to see for a specific symbol: market data, charts, open orders and more.
Set preferences for everything from font size and style, language and skin to precautionary settings and operating mode.